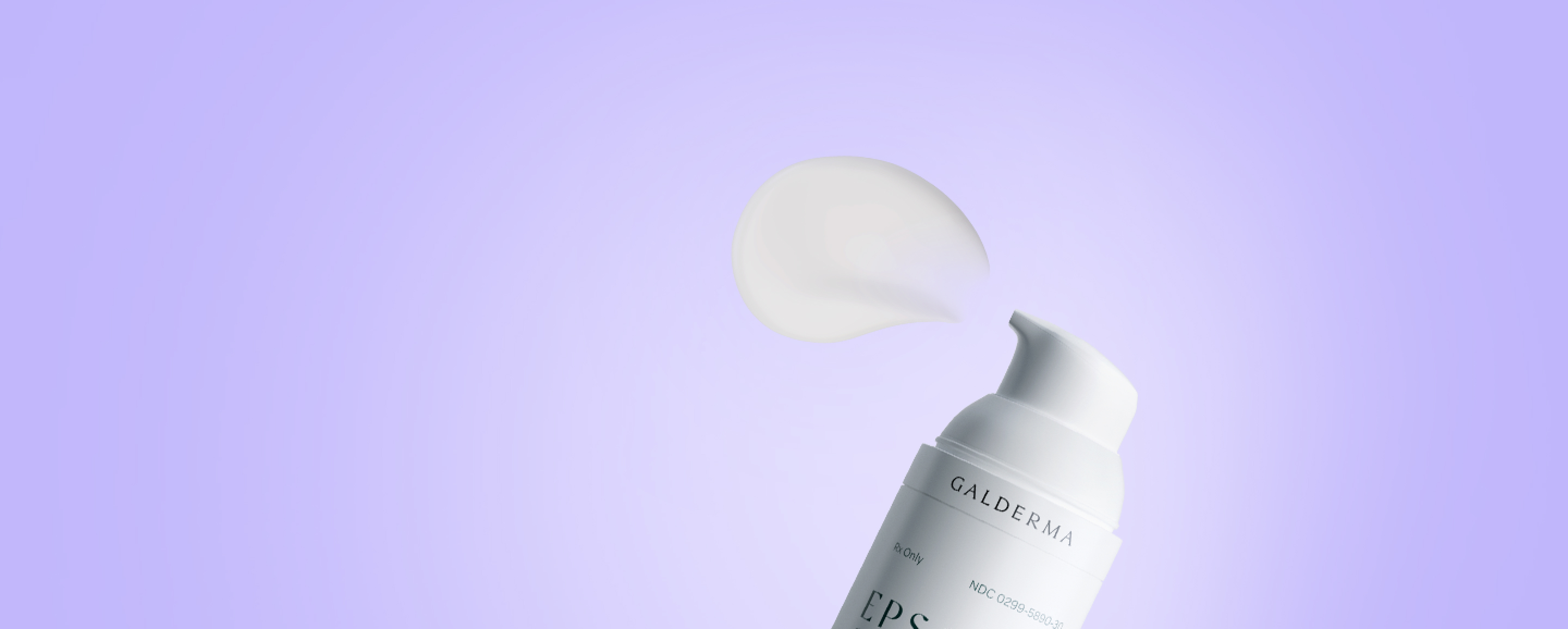 4 steps to skincare success
EPSOLAY cream is designed to be delicate on skin, so you can apply it every day as prescribed, either in the morning or evening.1
USING EPSOLAY CREAM IS AS EASY AS C-A-M-P:
WATCH NOW
Tips for using
EPSOLAY cream1

Before you use EPSOLAY cream for the first time, prime the pump by pressing down until the first drop of cream is dispensed.

Make sure to limit your time in sunlight or artificial light. EPSOLAY cream may make your skin more sensitive to the sun and the light.

Your bottle of EPSOLAY cream should be stored at room temperature (68 ℉ to 77 ℉).

Please discard your bottle of EPSOLAY cream 30 days after your first use or by the expiration date printed on the bottle, whichever comes first.

Be sure to refill EPSOLAY cream right away, so you can continue to use it after your bottle is finished.
Support at every step. Get updates straight to your inbox.
Stay Connected
Reference: 1. EPSOLAY (benzoyl peroxide) cream, 5% [Prescribing Information]. Whippany, NJ: Sol-Gel Technologies Ltd.; April 2021.
IMPORTANT SAFETY INFORMATION
Indication: EPSOLAY® (benzoyl peroxide) Cream, 5% is indicated for the treatment of inflammatory lesions of rosacea in adults. Adverse Events: The most common adverse reactions (incidence ≥ 1%) in patients treated with EPSOLAY Cream were pain, erythema (redness), pruritus (itching) and edema (swelling), all at the application site. Warnings/Precautions: Patients using EPSOLAY Cream may experience hypersensitivity reactions, including anaphylaxis (acute allergic reaction), angioedema (rapid swelling), and urticaria (hives). If serious hypersensitivity reaction occurs, discontinue use of EPSOLAY Cream immediately and seek medical attention/initiate appropriate therapy. Skin Irritation/contact dermatitis may be experienced, including erythema (redness), scaling, dryness, and stinging/burning. Irritation and contact dermatitis may occur. Use a moisturizer and discontinue EPSOLAY Cream if symptoms do not improve. Avoid application to cuts, abrasions, eczematous, or sunburned skin. EPSOLAY Cream may increase photosensitivity, sensitivity to ultraviolet light. Minimize or avoid exposure to natural or artificial sunlight (tanning beds or UVA/B treatment). Use sunscreen or protective clothing when sun exposure cannot be avoided. Discontinue use of EPSOLAY Cream at the first evidence of sunburn.
You are encouraged to report negative side effects of prescription drugs to the FDA. Visit www.fda.gov/medwatch or call 1-800-FDA-1088