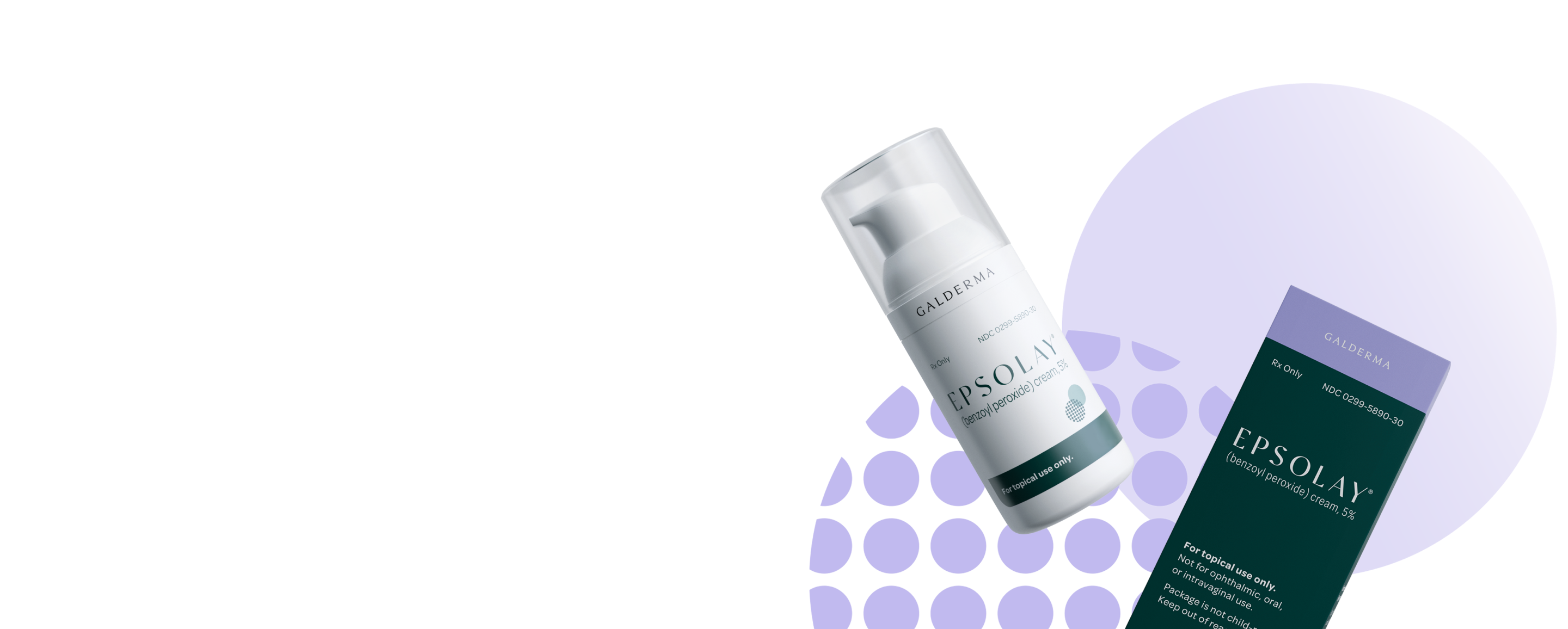 E-BPO for rosacea
Innovative microencapsulation technology gradually releases benzoyl peroxide (BPO)1-3

Watch as dermatologist Dr. Hilary Baldwin discusses the state-of-the-art technology that makes EPSOLAY cream the first and only topical proven to control the release of BPO to relieve the inflammatory lesions of rosacea.1-4
SCROLL
DOWN
Discover the benefits of E-BPO for rosacea
BUILT-IN BARRIER1,3

Microencapsulation technology features a shell structure made from layers of silicon dioxide

BPO, the active ingredient, is encapsulated at the core (ie, E-BPO)

When applied, the shells create a barrier between the skin and the BPO

CONTROLLED RELEASE3

Silica encapsulation controls the BPO release rate, allowing for gradual release over time

TOLERABLE RELIEF3

The controlled release of BPO over time allows for efficacious yet tolerable relief of inflammatory lesions of rosacea

LEARN MORE
The precise mechanism of action of BPO in the treatment of the inflammatory lesions of rosacea is unknown1
BPO is a trusted compound with complementary properties that are thought to effectively treat papulopustular rosacea.1,5-7
Get the latest news and information about EPSOLAY cream sent straight to your inbox.
STAY CONNECTED
References: 1. EPSOLAY (benzoyl peroxide) cream, 5% [Prescribing Information]. Whippany, NJ: Sol-Gel Technologies Ltd.; April 2021. 2. Data on File. Galderma Laboratories, L.P. 3. Galderma Laboratories, L.P.; data on file. Clinical Study Report SGT-54-01; January 8, 2020. 4. Leyden JJ. Randomized, phase 2, dose-ranging study in the treatment of rosacea with encapsulated benzoyl peroxide gel. J Drugs Dermatol. 2014;13(6):685-688. 5. Zaenglein AL, Pathy AL, Schlosser BJ, et al. Guidelines of care for the management of acne vulgaris. J Am Acad Dermatol. 2016;74(5):945-973. doi:10.1016/j.jaad.2015.12.037 6. Jalian HR, Takahashi S, Kim J. Overview of dermatological diseases. In: Taylor JB, Triggle DJ, eds. Comprehensive Medicinal Chemistry II. Elsevier Ltd; 2007:935-955. 7. Oztürkcan S, Ermertcan AT, Sahin MT, Afşar FS. Efficiency of benzoyl peroxide-erythromycin gel in comparison with metronidazole gel in the treatment of acne rosacea. J Dermatol. 2004;31:610-617. doi:10.1111/j.1346-8138.2004.tb00566.x 8. Worret WI, Fluhr JW. Acne therapy with topical benzoyl peroxide, antibiotics and azelaic acid. J Dtsch Dermatol Ges. 2006;4:293-300. doi:10.1111/j.1610-0387.2006.05931.x
IMPORTANT SAFETY INFORMATION
Indication: EPSOLAY® (benzoyl peroxide) Cream, 5% is indicated for the treatment of inflammatory lesions of rosacea in adults. Adverse Events: The most common adverse reactions (incidence ≥ 1%) in patients treated with EPSOLAY Cream were pain, erythema (redness), pruritus (itching) and edema (swelling), all at the application site. Warnings/Precautions: Patients using EPSOLAY Cream may experience hypersensitivity reactions, including anaphylaxis (acute allergic reaction), angioedema (rapid swelling), and urticaria (hives). If serious hypersensitivity reaction occurs, discontinue use of EPSOLAY Cream immediately and seek medical attention/initiate appropriate therapy. Skin Irritation/contact dermatitis may be experienced, including erythema (redness), scaling, dryness, and stinging/burning. Irritation and contact dermatitis may occur. Use a moisturizer and discontinue EPSOLAY Cream if symptoms do not improve. Avoid application to cuts, abrasions, eczematous, or sunburned skin. EPSOLAY Cream may increase photosensitivity, sensitivity to ultraviolet light. Minimize or avoid exposure to natural or artificial sunlight (tanning beds or UVA/B treatment). Use sunscreen or protective clothing when sun exposure cannot be avoided. Discontinue use of EPSOLAY Cream at the first evidence of sunburn.
You are encouraged to report negative side effects of prescription drugs to the FDA. Visit www.fda.gov/medwatch or call 1-800-FDA-1088