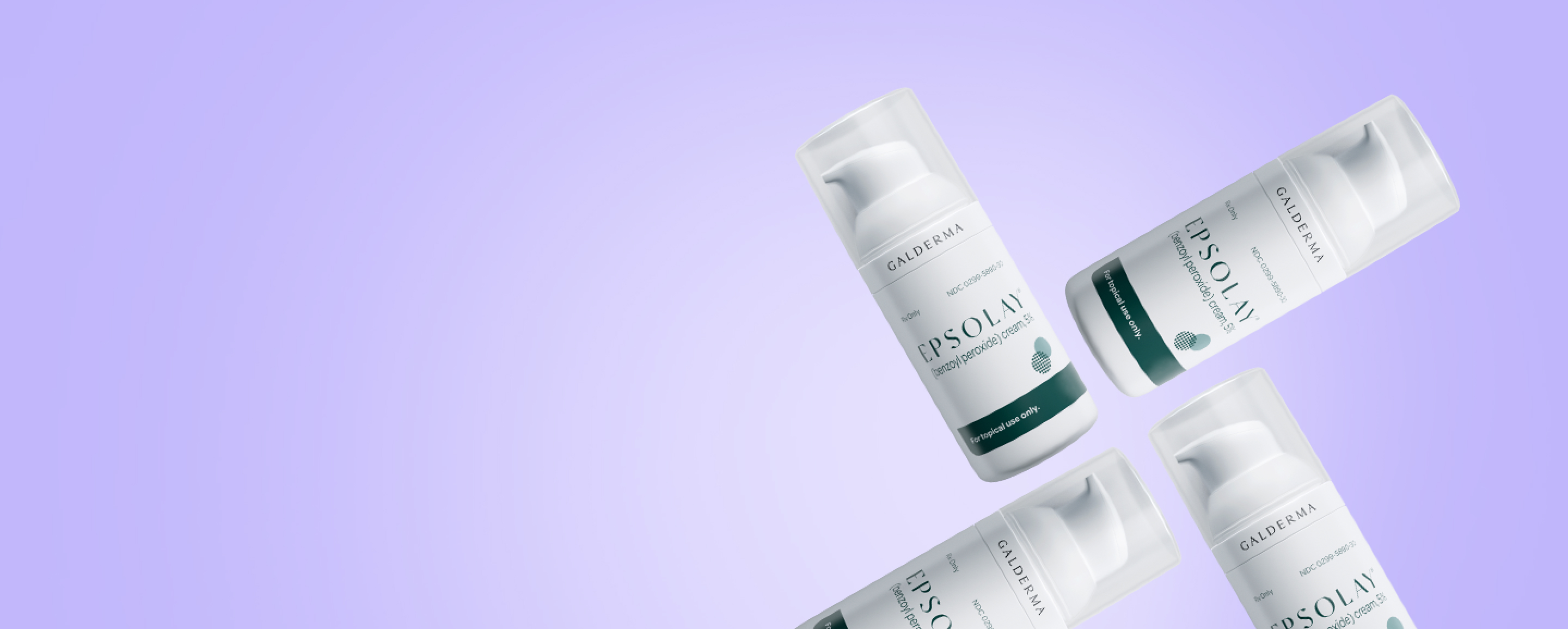 EPSOLAY cream FAQs
We've got answers to your questions.
Where can I get EPSOLAY cream?

EPSOLAY cream is a prescription-only medication, and it cannot be bought over the counter. Talk to your doctor or dermatologist to see if EPSOLAY cream might be right for you.

Once you have a prescription, you can also save on your EPSOLAY cream refills with a Galderma CareConnect Patient Savings Card.

Learn more.

How much does EPSOLAY cream cost?

That depends on your insurance provider and pharmacy costs. Speak with your doctor or insurance provider for more information about the total cost of EPSOLAY cream.

How does EPSOLAY cream help rosacea?

EPSOLAY cream uses innovative microencapsulation technology to control the release of benzoyl peroxide (BPO) in a way that doesn't overwhelm your skin. BPO is known to kill bacteria and helps to release dead skin cells. By killing bacteria, BPO may help reduce inflammation, however the exact way EPSOLAY cream works is unknown.1-3

When does EPSOLAY cream begin working?

In clinical studies, many patients saw visible improvements in their rosacea in as little as 2 weeks.2,4

See results.

Can EPSOLAY cream be used long term?

EPSOLAY cream was proven to be safe and effective in a 1-year clinical trial. You should speak with your doctor or dermatologist to understand how to best use EPSOLAY cream for your rosacea.1,5

If my rosacea gets better, should I stop using EPSOLAY cream?

You may notice the bumps and blemishes of your rosacea clearing up in as early as 2 weeks. But in clinical trials, most people's skin kept improving over time. We recommend that you keep using EPSOLAY cream every day until your doctor or dermatologist says otherwise.1,2,4

Are there any side effects?

EPSOLAY cream has minimal side effects. In clinical trials, the most common side effects reported by at least 1% of people, all at the application site, were1:

Pain
Erythema (redness)
Pruritus (itching)
Edema (swelling)

Most people did not experience dryness, itching, scaling, or stinging/burning.1

Call your doctor for medical advice about side effects. They may have tips for managing them or they may tell you to use EPSOLAY cream less often or to stop using it altogether.

Is there a recommended skincare regimen I should follow?

It's really up to you and your doctor. But here's what we recommend1:

Use a mild cleanser like Cetaphil® Gentle Skin Cleanser or any other one that you like, and gently wash your face in the morning and at night
Use your fingers, not a sponge or washcloth
Blot—don't rub—your skin with a soft towel
Apply a gentle moisturizer immediately after the cleanser, such as Cetaphil® Moisturizing Lotion or any other one you like
Use a daily sunscreen to protect your skin

Are there any skincare products I should avoid?

Again, this one's up to you and your doctor. We suggest that you read product labels and avoid products with the following ingredients: alcohol, witch hazel, menthol, or peppermint. Instead, stick with mineral-based makeup and oil-free foundation or concealer.6

Should I avoid the sun while using EPSOLAY cream?

Yes, we suggest minimizing unprotected exposure to sunlight. You should avoid using sunlamps, tanning beds, and ultraviolet light during treatment with EPSOLAY cream. If you have to be in sunlight or are sensitive to sunlight, use sunscreen and wear protective clothing and a wide-brimmed hat to cover the treated areas.1

Should I use EPSOLAY cream in the morning or at night?

Either one is fine, but you should use it at the same time every day. You can also ask your doctor or dermatologist for their recommendation. We suggest you use it at night because it can stain fabrics and may make your skin more sensitive to sunlight. If you do use it during the day, make sure to protect your skin with sunscreen.1

How much EPSOLAY cream should I apply?

Use a pea-sized amount of EPSOLAY cream for each area of your face (forehead, chin, nose, and cheeks). Massage a thin layer onto your skin, and avoid your eyes, lips, and mouth.1

What if I miss an application?

Do not double on your application of EPSOLAY cream to make up for the forgotten one. Just continue the next day with the same amount of product.1 Try and keep using it as your doctor or dermatologist instructed to get the most out of your treatment.

Will it dye my hair or fabrics?

Wash your hands after you finish using EPSOLAY cream, as it may stain and bleach fabric or hair.1

How should I store EPSOLAY cream?

Your bottle of EPSOLAY cream should be stored at room temperature (​​68 ℉ to 77 ℉).1

How long is EPSOLAY cream good for?

Discard unused EPSOLAY cream 30 days after using it for the first time or by the expiration date printed on the bottle, whichever comes first.1
Support at every step. Get updates straight to your inbox.
Stay Connected
References: 1. EPSOLAY (benzoyl peroxide) cream, 5% [Prescribing Information]. Whippany, NJ: Sol-Gel Technologies Ltd.; April 2021. 2. Galderma Laboratories, L.P.; data on file. Clinical Study Report SGT-54-01; January 8, 2020. 3. Brammann C, Muller-Goymann C. An update on formulation strategies of benzoyl peroxide in efficient acne therapy with special focus on minimizing undesired effects. Int J Pharm. 2020;578:119074. doi:10.1016/j.ijpharm.2020.119074 4. Galderma Laboratories, L.P.; data on file. Clinical Study Report SGT-54-02; March 26, 2020. 5. Galderma Laboratories, L.P.; data on file. Clinical Study Report SGT-54-07; March 30, 2020. 6. Greenlaw E. Skincare tips for rosacea. WebMD. Accessed November 19, 2021. https://www.webmd.com/skin-problems-and-treatments/features/rosacea-skin-care-tips
IMPORTANT SAFETY INFORMATION
Indication: EPSOLAY® (benzoyl peroxide) Cream, 5% is indicated for the treatment of inflammatory lesions of rosacea in adults. Adverse Events: The most common adverse reactions (incidence ≥ 1%) in patients treated with EPSOLAY Cream were pain, erythema (redness), pruritus (itching) and edema (swelling), all at the application site. Warnings/Precautions: Patients using EPSOLAY Cream may experience hypersensitivity reactions, including anaphylaxis (acute allergic reaction), angioedema (rapid swelling), and urticaria (hives). If serious hypersensitivity reaction occurs, discontinue use of EPSOLAY Cream immediately and seek medical attention/initiate appropriate therapy. Skin Irritation/contact dermatitis may be experienced, including erythema (redness), scaling, dryness, and stinging/burning. Irritation and contact dermatitis may occur. Use a moisturizer and discontinue EPSOLAY Cream if symptoms do not improve. Avoid application to cuts, abrasions, eczematous, or sunburned skin. EPSOLAY Cream may increase photosensitivity, sensitivity to ultraviolet light. Minimize or avoid exposure to natural or artificial sunlight (tanning beds or UVA/B treatment). Use sunscreen or protective clothing when sun exposure cannot be avoided. Discontinue use of EPSOLAY Cream at the first evidence of sunburn.
You are encouraged to report negative side effects of prescription drugs to the FDA. Visit www.fda.gov/medwatch or call 1-800-FDA-1088